August 2018, Vol. 7, No. 8
    August Spotlight: Empowering Global Citizens
Youth activists from NYC ask President of the UN General Assembly their questions 
Dear Friends,
This past month, we had over 350 young global citizens participate in our programs and events around the world! Read on to find out more:
NYC Youth Activist Meet with President of the UN General Assembly
On August 8th, WFUNA, in partnership with Children's Aid, 
hosted the President of the 72nd Session
 of the United Nations General Assembly, H.E. Miroslav Lajčák. He was joined by New York City youth, in Harlem, for an informal discussion. The conversation explored how the UN can better engage with youth and how youth can get more involved with the UN. Implementing the UN Sustainable Development Goals would not be possible without the involvement and leadership of young people. Read our summary
here
!
Mission Possible Agents of Change International Conference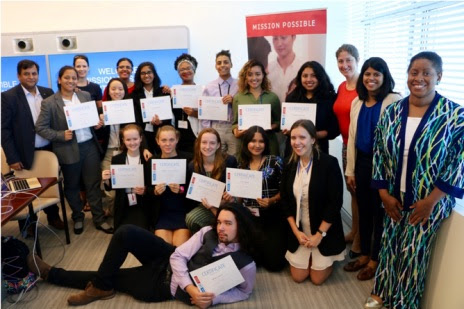 From August 22-24, WFUNA organized its third Mission Possible International Agents of Change Conference for students from India, Singapore and New York City who have made the pledge to become Agents of Change through our Mission Possible Program. Fifteen students from the Mission Possible: India and Singapore programs and from youth organizations based in New York City gathered at the United Nations Headquarters to hear from UN officials and present their projects. Find out more 
here
!
Summer Training Programs at the UN
This summer, WFUNA hosted six groups of students for 
Training Programs at the UN
-three in New York and three in Geneva. Training Programs were offered through our partnerships with ThinkBank, UNPM, Yonsei University, and Kyung Hee University. Students were oriented to the UN systems, met with UN officials, learned about the Sustainable Development Goals, and presented their projects. One of the groups participated in our third College Leaders at the UN program and prepared proposals for the UN agencies they met with during the week. More pictures 
here
!
The 8th edition of Human Rights in Action took place at the end of the month, bringing representatives from 18 countries to Geneva for a week of project management training with the goal of returning to their countries to implement their projects throughout the course of the year. In advance of this year's training, WFUNA partnered with the Office of the High Commissioner on Human Rights and the International Organization for Migration on the #Standup4humanrights campaign. Find out more and take the pledge 
here
!
Ninth WFUNA Youth Camp: Korea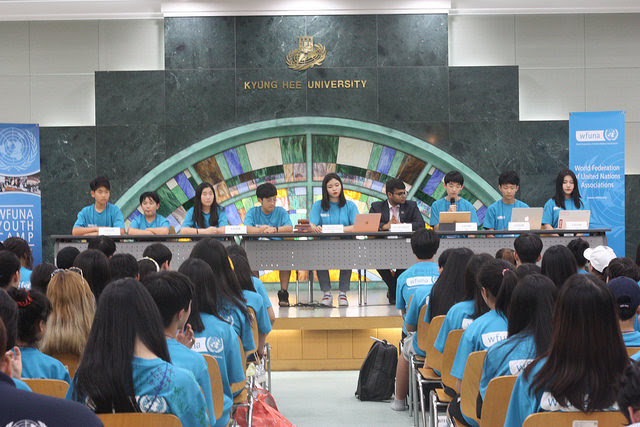 WFUNA hosted the 9th WFUNA Youth Camp for over 150 students from 18 countries. WFUNA Youth Camp: Korea aims to provide youth with the most comprehensive learning experience of the UN General Assembly decision-making process through a weeklong UN4MUN workshop and Model UN conference. It also encourages global citizenship by involving participants in actionable extra-curricular programs aimed at helping impoverished youth in developing countries. See more pictures
here
!
Passing of Former UN Secretary-General Kofi Annan
WFUNA mourns the loss and celebrates the work of former UN Secretary-General Kofi Annan, an inspiring leader on human rights, peace, and the work of the United Nations. WFUNA President, 
Ambassador Park issued a statement
 on his passing, highlighting his impressive life and work: "On behalf of the World Federation of United Nations Associations, I offer my heartfelt condolences and sympathy to Ms. Nane Annan and their beloved family. He will be greatly missed by so many around the world and will remain long in our hearts."
You can keep up with our daily updates through Facebook and Twitter.
Thank you for your continued support.
Until next month,
Bonian Golmohammadi
Secretary-General
The SDG Observer is a new section of this newsletter dedicated to the activities undertaken by WFUNA and United Nations Associations (UNAs) in advancing the Sustainable Development Goals (SDGs). Tell us about your activities here!
UNA Bulgaria just signed an exciting partnership with the Bulgarian Football Union to celebrate the Universal Declaration of Human Rights and collaborate on achieving the SDGs! Find out more here.
UNA Norway partnered with the Norwegian Agency for Development Coordination (Norad), the leading SDG campaign in Norway, to host a concert to raise awareness of the SDGs. Over 5500 people attended, navigating illuminated boxes with the 17 SDGs that were spread all over the city. See the video here.
Upcoming events we're excited about:
16+ Forum Annual Showcase

collective undertaking to demonstrate SDG 16+ in

action—what implementation looks like, how to go

about it, and lessons learned going forward. This year it will take place in Sierra Leone.

Urban Innovation Challenge

Urban Innovation Challenge: Citypreneurs is a start up competition for prospective entrepreneurs from around the world interested in achieving the UN's Sustainable Development Goals. Learn more about the program here!

42nd WFUNA Plenary Assembly

The 42nd Plenary Assembly and 3rd Global Youth Forum will take place from October 17 – 21 in Punta Cana, in partnership with UNA Dominican Republic, with the theme Peaceful, Just, and Inclusive Societies. Find out more information 

here

!